Wireless NMEA 2000™ Protocol Gateway
Download WiFi Specifications (PDF)
Plug and Play Wireless NMEA 2000™ and NMEA 0183™ compatible interface module consists of a USB/Serial gateway, 802.11 b/g Wi-Fi transmitter and built in CGI/AJAX web server.  Compatible with most browser enabled devices such Smart Phones, iPhone, iPad, and Android, SeaSmart.Net™ allows users to view NMEA 2000™ and 0183 serial data via integrated web pages eliminating add-on license fees. Open Sourced HTML Protocol allows simple customization to fit any application from weather station, dual engines, battery banks, fluid tanks and more. Now view all gauges, switch positions and GPS information from any browser enabled device.
SeaSmart.net will allow internet based applications to directly access NMEA 2000 and NMEA 0183 data over TCP/UDP connections. Now view vessel information from anywhere. Also supports AIS information via on-board receivers.
SeaSmart.Net™ innovative interface technology includes an embedded Wi-Fi module to directly support both infrastructure and Ad Hoc networks without additional equipment. SeaSmart.net firmware translate native NMEA 2000 protocol to compatible HTML pages which are automatically updated Live and feed to the embedded web server. CGI and AJAX protocols allow JavaScript Web Browsers to view the dynamic graphics with minimum network loading so that performance is maintained over Dial-Up and Cell based networks. The Open Protocol allows for license free viewing of vessel data equal to other helm station displays and is easily shared among other devices. This data can be logged and viewed on vessel based systems or pushed to internet based remote servers for access anywhere in the world.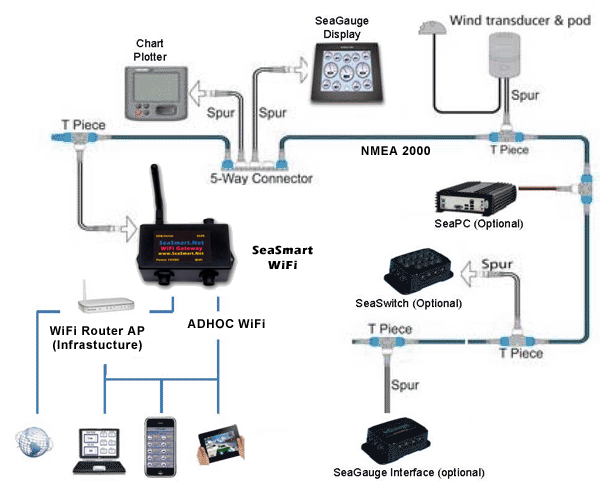 Chetco Digital SeaSmart.Net™ technology makes wireless gauge viewing, data access and data storage as easy as using a smart phone and browser. SeaSmartWiFi is bundled with sample Web Pages for instant setup. Custom development tools are also included.
Technical Specifications
{ new PGNs added weekly - please call for updates }
| | | | |
| --- | --- | --- | --- |
| PGN | TYPE | HTTP Header | Parameters |
| 126992 | System Time | $PCDIN,01F010 | 3 |
| 127250 | Vessel Heading | $PCDIN,01F112 | 3 |
| 127251 | Rate Of Turn | $PCDIN,01F113 | 2 |
| 127257 | Attitude | $PCDIN,01F119 | 3 |
| 127488 | Engine Parameter, Rapid | $PCDIN,01F200 | 3 |
| 127489 | Engine Parameter, Dynamic | $PCDIN,01F201 | 9 |
| 127493 | Transmission Parameters | $PCDIN,01F205 | 3 |
| 127501 | Binary Switch Status | $PCDIN,01F20D | 4 |
| 127502 | Switch Bank Control | $PCDIN,01F20E | 4 |
| 127505 | Fluid Level | $PCDIN,01F211 | 3 |
| 127508 | Battery Status | $PCDIN,01F214 | 3 |
| 130306 | Wind Data | $PCDIN,01FD02 | 2 |
| 130311 | Environmental Parameters | $PCDIN,01FD07 | 2 |
| 130312 | Temperature | $PCDIN,01FD08 | 2 |
| 130323 | Meteorological Station | $PCDIN,01FD13 | 7 |
| 129026 | GPS COG & SOG | $PCDIN,01F802 | 2 |
Operating Voltage:
9 to 14.5 Volts DC Voltage
Power Consumption:
<600mA Average Current Drain
Load Equivalence Number:
12 NMEA 2000® Spec. (1LEN = 50 mA)
Reverse Battery Protection:
Yes Indefinitely
Load Dump Protection:
Yes Energy Rated per SAE J1113
Size:
4" x 2" x 2" Including Flanges for Mounting Weigh 8 oz. (340 g)
NMEA 2000® Connector:
DeviceNet Micro-C via 24" cable drop (4 pin Conxall)
NMEA 2000® Isolation:
Opto-Isolated No Electrical Connection Across Bridge
Interface Standard:
RS232 Serial/USB 1.1
USB Connector:
8-pin Conxall to USB Type A -5' cable drop
USB Auxiliary Power:
+5 Volts < 200 mA
RS232 Connector:
8-pin Conxall to DB9 Connection to PC – 5' cable drop
Power Connector:
2-pin Conxall to 3' pigtail (12V/GND)
WFi Interface:
802.11 b/g 11/57 Mb/s
WiFi Antenna:
Dipole ¼ Wave
Operating Temperature:
-25°C to 55°C
Storage Temperature:
-40°C to 70°C
Relative Humidity:
93%RH @40° per IEC60945-8.2
Show Discounts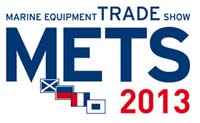 Save 10% on purchase during show
PushSmart works with Google Maps for live Vessel data



View vessel data and track in Google Maps

Now compatiable with iNavX version 3.5.0