SeaSmart GPRSTM Cellular Vessel Gateway
Download WiFi Specifications (PDF)
The SeaSmart.netTMGPRS Gateway translates NMEA 2000 bus data for transmission over most cellular networks. Can be used with any tablet/iPad/iPhone/ SmartPhone or attached wirelessly to an on-board router (infrastructure). Also compatible with new MiFi cell based devices and personal HotSpots for remote internet access within coverage areas.
A Built-in Server hosts Web pages that convert NMEA 2000 data directly into virtual instruments for real-time display of hundreds of parameters. The netGauges.net pages are completely customizable using the browser interface to match any installation from engine data, fluid tanks, battery status, weather, navigation, and more.
New Generation-2 features allow the adapter to send data directly to HelmSmart.netTM servers over an existing internet connection while also storing to internal SD memory in case live connections are not available. SD memory files can be later accessed via any browser device and uploaded to cloud based servers for storage and analysis.
The rugged water-resist design features two 12-wire flying lead cable harnesses for secure connections and easy installation. One harness allows 12 separate indicator/status inputs for extra vessel monitoring while the other features a multi-function data port that auto switches from Serial mode to USB mode. When plugged into a compatible PC/Laptop, the electrically isolated USB mode provides an protective interface to PCs running marine instrumentation and chart plotting applications such as the vDashTM real-time virtual dashboard.
The SeaSmart.netTM WiFi adapter can be used stand-alone to data log to SD Memory or remotely accessed via the WiFi interface using TCP and UDP protocols supporting many devices over a single access point. When paired to a router with internet access or MiFi device, remote access to vessel NMEA 2000 data is possible anywhere, anytime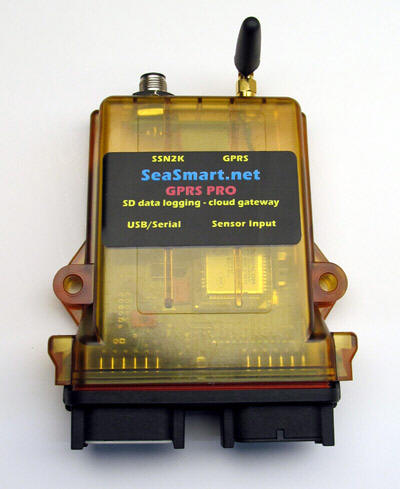 Chetco Digital SeaSmart.Net™ technology makes cloud base gauge viewing, data access and data storage as easy as using a smart phone and browser. SeaSmart GPRS is bundled with HelmSmart web service instant setup. Custom development tools are also included.
Technical Specifications
Operating Voltage:
9 to 14.5 Volts DC Voltage
Power Consumption:
<700mA Average Current Drain
Load Equivalence Number:
12 NMEA 2000® Spec. (1LEN = 50 mA)
Reverse Battery Protection:
Yes Indefinitely
Load Dump Protection:
Yes Energy Rated per SAE J1113
Size:
4" x 2" x 2" Including Flanges for Mounting Weigh 8 oz. (340 g)
NMEA 2000® Connector:
DeviceNet Micro-C via 24" cable drop (4 pin Conxall)
NMEA 2000® Isolation:
Opto-Isolated No Electrical Connection Across Bridge
Interface Standard:
RS232 Serial/USB 1.1
USB Connector:
12-pin Deutsch to USB Type A -5' cable drop
USB Auxiliary Power:
+5 Volts < 200 mA
RS232 Connector:
3-wire flying lead with 5' cable drop
Power Connector:
12-pin Deutsch 3' pigtail (12V/GND)
WFi Interface:
802.11 b/g 11/57 Mb/s
WiFi Antenna:
Dipole ¼ Wave
Operating Temperature:
-25°C to 55°C
Storage Temperature:
-40°C to 70°C
Relative Humidity:
93%RH @40° per IEC60945-8.2
Cloud base Vessel Monitoring
HelmSmart.net is a web site offering Cloud-based data access for SeaSmart NMEA 2000 network adapters. HelmSmart.net provides a collection of dynamic web pages that link with PushSmart Cloud Database and messaging services to present virtual dashboards. Vessel data can be viewed in a variety of formats including Map overlays, charts, spreadsheets, instrumentation, and alarm/status messages. High speed cloud servers provide 24/7 search engine access and global distribution for stored data as well as real-time messaging and live monitoring anywhere with internet access.